espace kugler
art contemporain
19, avenue de la jonction - 1205 Genève
::::::::::::::::::::::::::::::::::::::::::::::::::::::::::::::::::::::::::::::::
Mara Krastina
GOOD MORNING
From Geneva to London
Vernissage le vendredi 13 novembre 2015 à 19h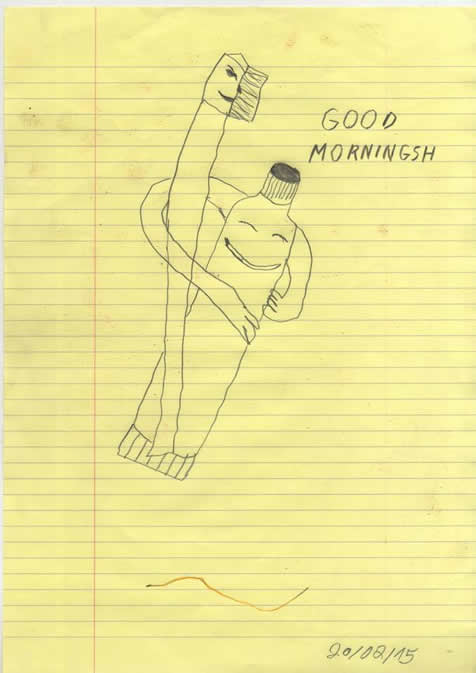 Exposition du samedi 14 novembre au dimanche 29 novembre 2015
Ouvert les samedis et dimanches de 15h à 19h et sur rdv en contactant cobrours@gmail.com ou team@espacekugler.ch
20 envelopes 56 Swiss stamps 186 drawings
We don't see each other every day,
but on the days that we do,
we start by saying good-morning.
On the days we don't.
She wakes up and draws me a picture.
There's a picture for every day we weren't together.
Since the day we started starting our days together.
R
Mara Krastina est née à Riga (Lettonie) en 1984. Depuis sa formation Work Master à la HEAD (Haute Ecole d'Art et Design de Genève), elle explore de plus en plus l'univers du folklore contemporain à travers le dessin et des projets gravitant autour de la matière sonore. Cette recherche se traduit autant à travers de multiples performances sonores et différents événements radiophoniques : LapTopRadio, NANA, Massicot, Vegan 2000, Flower Clock, et des expositions: « Les Carnetistes », Nylon, Genève, « Splendid Splash ». Elle a co-fondé le collectif Les Chiens Fous, jeune collectif d'artistes plasticiens qui axent leur travail autour de l'édition. Les chiens fous: Paola Carbone, Maria Kaplanidou, Mara Krastina, Thomas Perrodin.